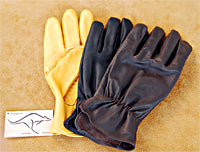 Our Kangaroo gloves are made from leather tanned in Australia by Packer Leather. Packer has been producing leather in Australia since 1891 and is the recognized leader in high performance Kangaroo leathers.
     Kangaroo leather is selected for the finest driving, riding, shooting, and specialty gloves.  It is strong, dense, and wears well.
Roper glove with reinforced palm patch and elastic back, from tannery run light weight leather.
All gloves are made to order. Please allow 1-2 week turn around time.