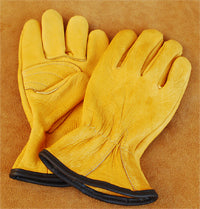 The leather used in these gloves comes exclusively from ranch raised American Bison.  Bison leather is selected for work and specialty gloves.  It is soft, yet strong, tough, and, wears well. Bison leather has a very distinctive grain and texture.  Although slight grain imperfections and scars are normal in American Bison leather, they do not affect the wearing qualities or comfort of these gloves.
Roper glove with reinforced palm patch and elastic back from tannery run medium weight American Bison
All gloves are made to order. Please allow 1-2 week turn around time.